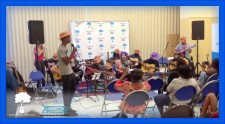 TAMPA, Fla., June 5, 2019 (Newswire.com) - Breezin' Entertainment & Productions is pleased to announce the next issue of Breezin' Magazine releasing in the fall of 2019. The third issue strives to explore and highlight the ever-growing changes happening within Tampa over the last couple of years and how the new additions are significantly impacting Tampa's citizens. In addition, the magazine is featuring Instruments 4 Life, the selected Charity of Choice winner, and collaborating with the charity to help and support their organization.
Serving the greater Tampa Bay area since 2011, Instruments 4 Life serves to spread the joy of music. Believing that every child deserves the opportunity to learn how to play an instrument, Instruments 4 Life has donated hundreds of lessons and instruments to underprivileged and deserving kids. Music provides an important outlet to children and has been proven to help with academic achievement as well as emotional development. After completion of their lessons, the students are also empowered to mentor other new students as a way to earn their very own guitar, ukulele or keyboard.
Recently, the charity organized two events in May to raise awareness and fundraise for their students: the Youth Showcase at Parks & Rec (Copeland Park) and Make Life Musical Benefit Concert at World of Beer (Westchase). Hundreds of families and friends came out to show their love and support. On May 21, 2019, at the Youth Showcase, the students performed five songs after practicing for only eight weeks. It was an exciting occasion as they played songs from all types of genres like Lil Nas X - Old Town Road (feat. Billy Ray Cyrus), a song featured on Billboard's Hot 100 for eight consecutive weeks.
On May 23, 2019, the Make Life Musical Benefit Concert happened at World of Beer in Westchase. This fundraising event invited all sponsors and partners, like Breezin' Entertainment, Tito's Handmade Vodka, Dream Center of Tampa, Recycled Tunes, Compass Title, Guaranteed Rate, World of Beer in Westchase Tampa, Florida, and so much more, to come out and raise money for Instruments 4 Life.
In fact, they are always looking for new ways to spread the love of art and music. Here is an upcoming event open to the public that Instruments 4 Life encourages those interested to attend:
November 2019: Pars 4 Guitars Golf Tournament at Cheval
To learn more about Instruments 4 Life or to make a contribution to the charity, please visit https://www.instruments4life.com/support-us.html.
Stay tuned for the next issue of Breezin' Magazine Volume 3, coming soon this fall. Opportunities to be potentially included in the next volume of Breezin' Magazine are encouraged. Submit all experiences or industry stories at https://breezin.com/magazine.
For media or press inquiries, please contact media relations liaison Claudia Tran at claudia@ibossdigital.com.
About Breezin' Entertainment & Productions
Breezin' Entertainment & Productions is a wedding, corporate and social entertainment specialist that offers unparalleled entertainment services to its clients. Breezin' Entertainment's mission is to create experiences through entertainment. As ambassadors of fun, the team at Breezin' Entertainment aims to provide a unique level of customer service to ensure that clients are left completely satisfied. Once a client books with Breezin' Entertainment & Productions, the company will handle the rest.
Founded in 1988 by Cindy Dervech, Breezin' Entertainment & Productions has been a top-tier entertainment provider in the Tampa Bay area for almost three decades. Specializing in weddings, corporate events and social functions, Breezin' tailors their entertainment services to the occasion.
As a licensed, bonded and insured business [License #TA-000378], Breezin' Entertainment is a company founded on transparency, communication and trust that aims to provide the client with premier customer service that cannot be found elsewhere.
Breezin' Entertainment provides fast, detailed, organized and reliable entertainment that clients can count on. Book that next event today by calling (813) 701-3523 or by visiting https://www.breezin.com.
Source: Breezin' Entertainment
Share: