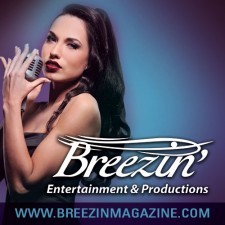 Breezin' commemorates the inaugural issue of Breezin' Magazine, a publication that highlights how event entertainment and Tampa's community intertwine.
TAMPA, Fla., September 26, 2017 (Newswire.com) - In recent years, we have seen transformations in the entertainment space. Through the steady rise of new technology, entertainers are better able to self-promote, create a community of followers, and engage with fans all at the click of a button. The unlimited possibilities provided online not only impact the entertainers but also affect the industry overall. From venues to concert halls, booking agents, and event planners, the industry is constantly evolving and is proving to be a more exciting time than ever to be in the entertainment industry.
Breezin' Entertainment & Productions has launched a publication named Breezin' Magazine that explores the relationship between event entertainers and the community in Tampa Bay. Breezin' Magazine is a publication that provides unique insight into the culture of events entertainment. Its first issue elucidates upon various charities and nonprofit organizations within the city of Tampa, their impact on Tampa's citizens, and the foundations they strive to accomplish.
In addition, the magazine offers its readers a firsthand look at the selection process for entertainers, different types of eccentric entertainment that are not typically seen, and what goes on in preparation of a big event that attendees are often unaware of.
Particularly noteworthy stories in Breezin' Magazine focus on Ryan Nece and the Ryan Nece Foundation, Julie Weintraub and Hands Across the Bay, and Steve and Kalo Tuikolovatu.
The Ryan Nece Foundation is helmed by former Buccaneers player Ryan Nece and aims to empower teens with the confidence and knowledge to become leaders in their communities. With a broader objective, Julie Weintraub's Hands Across the Bay focuses on bettering the lives of as many Tampa residents as possible.
Steve Tuikolovatu is currently a defensive tackle for the Tampa Bay Buccaneers. He and his wife Kalo have gone through many trials and tribulations in their journey which has now led them to research and develop a nonprofit that focuses on the elderly and the debilitating effects of aging.
Breezin' Entertainment & Productions is an event entertainment agency that has been serving Tampa Bay for nearly 30 years. Their launch party included experienced musicians, mesmerizing dancers, and talented bartenders that ensured the momentum of the occasion was never lost. Hundreds of attendees gathered in order to celebrate Breezin' Magazine and the illumination it provided to key professionals and foundations in Tampa Bay.
The event also served as a networking opportunity for attendees, as many of the involved foundations' members, key industry professionals, and celebrity moguls were present at the event.
To view the inaugural exclusive digital issue of Breezin' Magazine visit http://breezinmagazine.com.
This is only the first publication of Breezin' Magazine, and many more are planned to be released. Interested in being a part of the next edition? Tampa professionals with a story to tell are encouraged to submit to marketing@breezin.com
Event entertainment is a powerful tool that can be used to bring people together, and Breezin' Entertainment & Productions has no intention of slowing down. For more information about Breezin' Magazine or for press inquiries, please contact media relations liaison Dana Blickensderfer at Info@iBossAdv.com or call 813-775-7107.
About Breezin' Entertainment & Productions
Breezin' Entertainment & Productions is a wedding, corporate, and social entertainment specialist that offers unparalleled entertainment services to its clients. Breezin' Entertainment's mission is to create experiences through entertainment. As ambassadors of fun, the team at Breezin' Entertainment aims to provide a unique level of customer service to ensure that clients are left completely satisfied. Once a client books with Breezin' Entertainment & Productions, the company will handle the rest.
Founded in 1988 by Cindy Dervech, Breezin' Entertainment & Productions has been a top-tier entertainment provider in the Tampa Bay area for almost three decades. Specializing in weddings, corporate events, and social functions, Breezin' tailors their event entertainment services to your occasion.
As a licensed, bonded, and insured business [License #TA-000378], Breezin' Entertainment is a company founded on transparency, communication, and trust that aims to provide the client with premier customer service that cannot be found elsewhere.
Breezin' Entertainment provides fast, detailed, organized, and reliable entertainment that clients can count on. Book your next event today by calling 813-701-3523 or by visiting https://www.breezin.com.
Source: Breezin' Entertainment & Productions
Share: