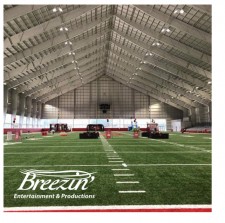 Breezin' Entertainment & Productions is a renowned event entertainment agency in the Tampa Bay Area, and with over 30 years of experience in the industry, Breezin' cements itself as the go-to booking agency for any event.
TAMPA, Fla., May 29, 2018 (Newswire.com) - The new year just began, and already Breezin' Entertainment & Productions has confirmed several bookings for prominent corporate organizations and companies in 2018. The event entertainment agency is an experienced player in the industry, with over 30 years of quality services that clients call "the go-to booking agency for corporate events in Tampa."
Breezin' Entertainment's first significant entertainment booking happened earlier this year at Tampa International Airport. Breezin' Entertainment has confirmed that they will be providing solo entertainers and other musical artists for a monthly event titled "Friday Flight." The monthly event aims to make the airport an entertainment destination for locals and travelers alike.
Another eventful booking was Meeting Planners International's (MPI) Meeting Matters Seminar at the Westin Hotel & Resort in Sarasota. Breezin' provided next-level entertainment for their all-day speaking seminar, offering Cirque-like entertainment, Bubble Magicians, LED hula hoops and a virtual photo booth.
Breezin' also recently confirmed booking with the St. Petersburg stadium Tropicana Field. Utilizing Breezin's new in-house band, 813Live All-Star Band booked a gig for the Tropicana Field's Rays Game against the Red Sox on March 29 and had fans stopping mid-stride to listen.
But Florida baseball fans weren't the only ones being offered a thrilling night. Breezin' booked a party event with the Philadelphia Phillies to provide live entertainment for the players to celebrate the season kicking off.
The most recent booking happened this past weekend on Sunday, May 20, 2018, where Breezin' collaborated with the Tampa Bay Buccaneers and Florida Hospital to bring next-level entertainment to the Bucs Babies Club Birthday Party. The entertainment Breezin' offered to the Bucs Babies Club Birthday Party were magicians dressed as pirates, story-tellers, face painters, balloon twisters and caricature artists.
Breezin's experience in the industry has built a robust network of DJs, entertainers and performers in order to offer a wide variety of performing styles for any type of event - from corporate functions to weddings. When planners book with Breezin', they will have entertainment no matter the occasion.
Breezin's years of experience and success speaks for itself. They are one of the most trusted, dependable businesses in the event entertainment industry. With a network of professional entertainers and performers on standby, it is virtually impossible that things go awry when it comes to booking corporate event entertainment.
To book the next corporate event with Breezin' Entertainment & Productions, please visit https://www.breezin.com/.
For media or press inquiries, please contact media relations liaison Dana Blickensderfer at info@iBossAdv.com.
About Breezin' Entertainment & Productions
Breezin' Entertainment & Productions is a wedding, corporate and social entertainment specialist that offers unparalleled entertainment services to its clients. Breezin' Entertainment's mission is to create experiences through entertainment! As ambassadors of fun, the team at Breezin' Entertainment aims to provide a unique level of customer service to ensure that clients are left completely satisfied. Once a client books with Breezin' Entertainment & Productions, the company will handle the rest!
Founded in 1988 by Cindy Dervech, Breezin' Entertainment & Productions has been a top-tier entertainment provider in the Tampa Bay area for almost three decades. Specializing in weddings, corporate events and social functions, Breezin' tailors their entertainment services to the occasion.
As a licensed, bonded and insured business [License #TA-000378], Breezin' Entertainment is a company founded on transparency, communication and trust that aims to provide the client with premier customer service that cannot be found elsewhere.
Breezin' Entertainment provides fast, detailed, organized and reliable entertainment that clients can count on. Book the next event today by calling (813) 701-3523 or by visiting https://www.breezin.com/.
Source: Breezin' Entertainment & Productions
Share: