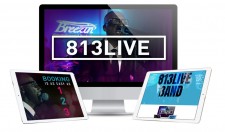 Famous for creating experiences through entertainment, Breezin' Entertainment & Productions introduces a new in-house band called 813Live. This hot, young, contemporary music group is quickly booking up for the new year, so call and reserve for your next event or wedding today.
TAMPA, FL, January 16, 2018 (Newswire.com) - ​​Breezin' Entertainment & Productions announces the launch of its new and contemporary in-house band, 813Live. A hot, young, and contemporary music group that started right from Tampa's very own event entertainment agency Breezin' Entertainment & Productions. With guidance by Cindy Dervech, founder of Breezin' Entertainment, and Renard Anthony, leader and the lead male vocalist of 813Live, the two were able to combine their musical genius to create this one of a kind 6-piece house band, for all event occasion types.
The 6-piece band includes both a male and a female lead vocalist, along with a keyboardist, a guitarist, bass player, and drummer. 813Live can also go up to be a 10 to 11-piece band, including a horn section. This is ideal for weddings and big events.
Led by R. Anthony, a prior contestant on NBC's The Voice Season 5, the band comprises of some of Florida's most talented singers and musicians. The variety band can entertain its audience with live music from all of the favorite hits including soulful R&B, Top 40 and other classics.
To book 813Live band today, powered by Breezin' Entertainment, visit http://813liveband.com/
The band contains seasoned professionals with over ten years of experience as musicians, entertainers, and performers. 813Live's style or music genre doesn't fall into just one category. The band members have a love for all music, including Contemporary music, Pop, Top 40 hits, and Latin. With this, the band knows and can play hundreds of songs for any wedding or corporate function.
The newly formed Florida-based band, 813Live, is sure to razzle-dazzle guests with their electrifying performances. This energetic, well-versed band can adapt to any occasion or function, as well as transform from an 11-piece band, including a brass section, to a duo act to meet any organization's needs. The band is also not limited to travel.
813Live knows how to read a crowd, and they will keep guests dancing all night long. They are full of energy and nonstop fun for any audience and occasion.
Band pricing and availability information can be found on Breezin' Entertainment & Productions' website or visit http://813liveband.com/ today.
About Breezin' Entertainment & Productions
Breezin' Entertainment & Productions is a wedding, corporate, and social entertainment specialist that offers unparalleled entertainment services to its clients. Breezin' Entertainment's mission is to create experiences through entertainment! As ambassadors of fun, the team at Breezin' Entertainment aims to provide a unique level of customer service to ensure that clients are left completely satisfied. Once a client books with Breezin' Entertainment & Productions, the company will handle the rest!
Founded in 1988 by Cindy Dervech, Breezin' Entertainment & Productions has been a top-tier entertainment provider in the Tampa Bay area for almost three decades. Specializing in weddings, corporate events, and social functions, Breezin' tailors their entertainment services to your occasion.
As a licensed, bonded, and insured business [License #TA-000378], Breezin' Entertainment is a company founded on transparency, communication, and trust that aims to provide the client with premier customer service that cannot be found elsewhere.
Breezin' Entertainment provides fast, detailed, organized, and reliable entertainment that clients can count on. Book your next event today by calling (813) 701-3523 or by visiting https://www.breezin.com
Source: Breezin Entertainment & Productions
Share: