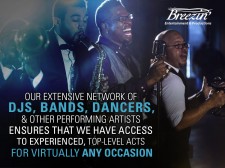 Breezin' Entertainment & Productions serves more than just Tampa; Sarasota is one of the most popular locations for their event entertainment services.
Sarasota, FL, March 31, 2017 (Newswire.com) - ​Organizing entertainment is commonly regarded as one of the more challenging and time-consuming aspects of planning an event. Whether it is a social occasion, corporate function, or a wedding, this fact remains unchanged: booking is a lot of work.
Finding the right entertainer is an ordeal in itself; then, you have to negotiate the contract, determine their availability, and make sure that your chosen venue can accommodate their performance. This can be particularly painstaking if you are choosing to book directly through the entertainer.
"A last-minute request for our planned events, Breezin' made the polo season for our players spectacular! Everyone from beginning to end has been friendly and professional"

Sherri Sweeny, Events Manager, Sarasota Polo Club
Breezin' Entertainment & Productions is renowned for their premier event entertainment coordinating services, which allows them to provide dancers, DJs, bands, and other live performers to their diverse range of clients, no matter the occasion. With nearly 30 years of presence in the industry, Breezin' has become a household name throughout the Tampa community.
Although Breezin' Entertainment & Productions is well established in the city of Tampa, they also extend their services past the city's borders, encompassing the Tampa Bay Area. In Particular, Sarasota has proven to be a hotspot for the company.
And, people in Sarasota have plenty of positive comments. Sarasota Polo Club needed entertainment booked with very little notice. Unsurprisingly, Breezin' delivered.
"A last-minute request for our planned events, Breezin' made the polo season for our players spectacular! Everyone from beginning to end has been friendly and professional," said Sherri Sweeny, the events manager at Sarasota Polo Club.
Breezin' owner Cindy Dervech continually strives to ensure that each of her client's needs is met in a timely and effective manner, while simultaneously delivering a level of customer service that is virtually impossible to match. Since founding Breezin' Entertainment & Productions in 1988, her commitment to premier Sarasota entertainment booking service and customer satisfaction has never wavered.
Many different high-profile businesses throughout the Sarasota region, such as Milan Catering, Powel Crosley, and Nuovo Bride Magazine, have given Breezin' the same acclaim. Breezin' has consistently proven that they are efficient at handling any type of client and always make sure their clients' events run smoothly.
Jennifer Mateo of Jennifer Mateo Event Planning stated that "working with the Breezin' team is always phenomenal. They can make anything happen and have a wide variety of entertainment to choose from. They take care of the important details and make my clients feel extra special on their big day. It is always a pleasure working with Gina and the Breezin' girls, they always exceed my expectations!"
Breezin's experience in the industry has built a solid network of DJs, entertainers and performers, which allows Breezin' to have entertainers on standby in order to accommodate emergencies. When you book with Breezin', you will have entertainment; no matter the circumstance.
To alleviate the burden of entertainment coordination so that you can better handle the other logistics of your event, contact Breezin' today! It's never too early to start planning.
For more information or for press inquiries, please contact media relations liaison Dana Blickensderfer at info@ibossadv.com or call 813-775-7107.
About Breezin' Entertainment & Productions
Breezin' Entertainment & Productions is a wedding, corporate, and social entertainment specialist that offers unparalleled entertainment services to its clients. Breezin' Entertainment's mission is to create experiences through entertainment! As ambassadors of fun, the team at Breezin' Entertainment aims to provide a unique level of customer service to ensure that clients are left completely satisfied. Once a client books with Breezin' Entertainment & Productions, the company will handle the rest!
Founded in 1988 by Cindy Dervech, Breezin' Entertainment & Productions has been a top-tier entertainment provider in the Tampa Bay area for almost three decades. Specializing in weddings, corporate events, and social functions, Breezin' tailors their entertainment services to your occasion.
As a licensed, bonded, and insured business [License #TA-000378], Breezin' Entertainment is a company founded on transparency, communication, and trust that aims to provide the client with premier customer service that cannot be found elsewhere.
Breezin' Entertainment provides fast, detailed, organized, and reliable entertainment that clients can count on. Book your next event today by calling (813) 701-3523 or by visiting https://www.breezin.com/
Source: Breezin' Entertainment & Productions Media
Share: