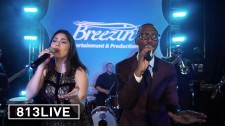 813Live All-Star Band, powered by Breezin' Entertainment & Productions, has begun performing for corporate events. The hot, young, and contemporary band 813Live All-Star Band has already played at the Tropicana Field Ray's Game and is looking forward to playing at many other corporate parties and events.
TAMPA, Fla., April 30, 2018 (Newswire.com) - 813Live All-Star Band has extended its audience to corporate event goers. Up until this point, the band, powered by Breezin' Entertainment & Productions, has worked at weddings and other big events, but the band recently was booked for the Tropicana Fields Rays Game against the Red Sox on March 29 and had fans stopping mid stride to listen.
It was the opening game of the season, and 813Live All-Star Band engaged the audience and helped pump up Rays Fans for the rest of the season. In the past the Rays have played free concerts using a host of talents, such as Calvin Harris, Ludacris, Dierks Bentley, Darius Rucker, Train, the Goo Goo Dolls, and now 813Live All-Star Band. The band was happy to add their names among such talent and is excited to play many other corporate events. To have them play at your next event, visit https://breezin.com/813live-band.
813Live All-Star Band is renowned for its versatility and crowd engagement. The six-piece band includes both a male and a female lead vocalist, along with a keyboardist, a guitarist, bass player, and drummer. However, the band can literally transform to fit any venue and can take their band from an 11-piece band to a duo act. They are also able to play a variety of music including; Top 40, Pop, R&B, Contemporary, and Latin. With members with over 10 years of experience as musicians, entertainers, and performers, 813Live All-Star Band has learned how to read a crowd and keep them dancing all night.
Among the talented musicians in 813Live All-Star Band is R. Anthony, a former contestant on The Voice Season 5. R. Anthony leads the band with the help of Cindy Dervech, founder of Breezin' Entertainment. Together they have created an unstoppable team that will keep party goers dancing.
The Florida based band is full of talent and energy and is sure to liven up any corporate event. To book the hot, young, contemporary band now or for more information, please visit https://breezin.com/813live-band.
*Due to an overwhelming reply, 813Live Band is almost fully booked for the 2018 calendar year. We are currently booking weddings and corporate parties for 2019! Ask about our alternative band, the All-Star Band.
For media or press inquiries, please contact media relations liaison Dana Blickensderfer at info@iBossAdv.com.
About Breezin' Entertainment & Productions
Breezin' Entertainment & Productions is a wedding, corporate, and social entertainment specialist that offers unparalleled entertainment services to its clients. Breezin' Entertainment's mission is to create experiences through entertainment! As ambassadors of fun, the team at Breezin' Entertainment aims to provide a unique level of customer service to ensure that clients are left completely satisfied. Once a client books with Breezin' Entertainment & Productions, the company will handle the rest!
Founded in 1988 by Cindy Dervech, Breezin' Entertainment & Productions has been a top-tier entertainment provider in the Tampa Bay area for almost three decades. Specializing in weddings, corporate events, and social functions, Breezin' tailors their entertainment services to your occasion.
As a licensed, bonded, and insured business [License #TA-000378], Breezin' Entertainment is a company founded on transparency, communication, and trust that aims to provide the client with premier customer service that cannot be found elsewhere.
Breezin' Entertainment provides fast, detailed, organized, and reliable entertainment that clients can count on. Book your next event today by calling (813) 701-3523 or by visiting https://www.breezin.com.
Source: Breezin' Entertainment & Productions
Share: