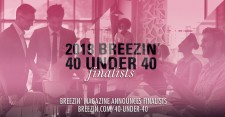 Breezin' Magazine announces the official list of finalists that will be featured in the 40 Under 40 article in the next issue. The magazine will launch on September 29, 2018.
TAMPA, Fla., August 30, 2018 (Newswire.com) - Breezin' Magazine is proud to announce its second issue that will launch on September 29, 2018. The entrepreneurial issue will feature a 'Behind the Hustle' look and view on event entertainment, entrepreneurship, and Tampa Bay business professionals. The magazine's most anticipated article highlights this year's '40 Under 40' 2018 list, which recognizes young entrepreneurs, artists, and innovators, that have been proactive in the Tampa Bay Area.
Submissions for the nominations began early in April 2018 and the editorial team received hundreds of applications. The '40 Under 40' 2018 list is an exclusive list that only showcases some of the best entrepreneurs under 40 years of age that are young entrepreneurs, business professionals, and innovators. The publication accepted nominations and nominees could have either nominated themselves or someone they felt stood out in the surrounding community.
Finding those young business professionals did take some time to curate; however, the results are in and here is the official list of finalists that will be featured in Breezin' Magazine's 40 Under 40:
Anthony Alayon, Creator of the Fat Extinction Program
Tom Bell, Co-founder of ViralStyle
Laura Beverlin, Founder of Style Adventures
Bianca Burrows, Artist
Christina Campbell, Creator of The Mommy Spot
Ryan Clarke, Co-founder of SiteReady
Anna Coats, Founder and Editor of Marry Me Tampa Bay
Ryan Conigliaro, Co-founder of Salt Block hospitality
Dr. Jacqueline Darna, CEO of No MO Nausea
Lauren Davenport, Founder and CEO of The Symphony Agency
Karla Dettlaff, Vice President of the Dettlaff Family Foundation
Jeffrey Dervech, Founder of Dervech Real Estate, Inc.
Yulner Diaz, Artist
Steven Fage, Founder of Five Nines
Akemi Fisher, Amazon Queen
Kelly Flannery, CEO of South Tampa Chamber of Commerce
Mara Glazer, Business Coach
Julieanna Goddard aka YesJulz, Founder of 1 AM Vibes
Nataliya Grygoryeva, President of Araliya Valuation Consulting
Dan Henry, Internet Marketer/Entrepreneur
Ferdian Jap, Event Coordinator for Big City Events
Andrew Machota, Co-Founder of New Town Connections
Caleb Maddix, Author
Jen McDonald, Vice President at Merchant Insurance Solutions
Joel Medgebow, Founder of Medgebow Law
Jeff Musgrave, Broker at the Musgrave Group
Carley Ochs, Founder and CEO Bourbon and Boweties
Katherine O'Donniley, Attorney at Trenam
Taylor Precourt, Director of Business Development at Key Person of Influence USA
Tom Raad, Co-owner Lair Services
Todd Reid, Vice President of Finance and Administration at a Tampa-based Private Equity Portfolio company
Ray Robson, Chessmaster
Nathan Schwagler, Co-Director of Dali Museum
Bobby Soroory, Acquisitions at Convergent Capital Partners LLC
Ryan Sullivan, CEO of Truhair
Gracie Stemmer, President at Startup Tampa Bay
Karla Stevenson, Director of Engagement
Farukh Tareen, President of Outfront Marketing Consultants
Kyle Taylor, CEO of PennyHoarder.com
Ricky Watts, Artist
Joshua Wyatt, Owner of South Tampa Dentistry
David Anderson and Lanfranco Pescante, Business Partners of Nocturnal Group
To see the full list visit, https://breezin.com/40-under-40
Editor-in-Chief Dana Blickensderfer and the entire staff of Breezin' Magazine, including contributing writer Jordan French, would like to thank every person that submitted a nomination to the 40 Under 40 Official 2018 List.
Although the nomination period may be over, the fun isn't over yet! Finalists will be invited to privately tour and to attend the 3rd Annual Stay in Step Carnival Gala, as the magazine will be recognizing the '40 Under 40' finalists with awards and celebrating the Stay in Step organization for being Breezin' Magazine's 2018 charity of choice.
The private tour will take place on Thursday, September 13, 2018, at Stay in Step located at 10500 University Center Dr #130 Tampa, FL 33612 from 4:30 PM - 6:00 PM. The Gala will take place on Saturday, September 29, 2018, at TPepin's Hospitality Centre from 7-11 PM.
Final nominees and finalists will receive discounted tickets to attend the Gala; please use PROMO CODE: Breezin40. Please visit the gala ticketing page for more information.
For more information about Stay in Step or the 3rd Annual Stay in Step Carnival, please visit https://stayinstep.org
Volume two of Breezin' Magazine will launch September 29, 2018. Stay tuned to get your copy! For more information visit http://breezinmagazine.com
To read last year's digital publication, visit http://issuu.com/ibossadvertising/docs/breezin_issuu
For media or press inquiries, please contact media relations liaison Claudia Tran at info@iBossAdv.com
About Breezin' Entertainment & Productions
Breezin' Entertainment & Productions is a wedding, corporate and social entertainment specialist that offers unparalleled entertainment services to its clients. Breezin' Entertainment's mission is to create experiences through entertainment. As ambassadors of fun, the team at Breezin' Entertainment aims to provide a unique level of customer service to ensure that clients are left completely satisfied. Once a client books with Breezin' Entertainment & Productions, the company will handle the rest.
Founded in 1988 by Cindy Dervech, Breezin' Entertainment & Productions has been a top-tier entertainment provider in the Tampa Bay area for almost three decades. Specializing in weddings, corporate events, and social functions, Breezin' tailors their entertainment services to your occasion.
As a licensed, bonded, and insured business [License #TA-000378], Breezin' Entertainment is a company founded on transparency, communication, and trust that aims to provide the client with premier customer service that cannot be found elsewhere.
Breezin' Entertainment provides fast, detailed, organized and reliable entertainment that clients can count on. Book your next event today by calling (813) 701-3523 or by visiting https://www.breezin.com/
Source: Breezin' Entertainment
Share: