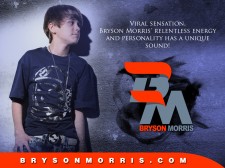 Teen music sensation, Bryson Morris, launches website to offer fans BM merch and album details.
Houston, Texas , August 23, 2016 (Newswire.com) - ​Teen Internet sensation Bryson Morris has received millions of views and shares on his music videos through social media. But starting today, Morris officially announces the launch of his new online shopping store https://shop.brysonmorris.com/ where fans can share, like, comment and purchase official Bryson Morris merch.
Bryson Morris' current website, http://brysonmorris.com/, will now be a place for fans to get the latest news Bryson Morris music news, buy fan merch and Bryson Morris swag, and learn more about the new viral sensation.
"I want my fans to receive amazing vibes. Music is about the love, and what I feel in the studio I hope to project that through my sound, and want my fans to feel it too."

Bryson Morris, Artist
Born in Poplar Bluff, Missouri,14-year-old artist Bryson Morris began his career at an early age. He was raised for the majority of his childhood in Ripley, Tennessee where he began his musical path at age 11. In school, he started studying business and the music industry, soaking up knowledge to fill in the gaps where his age may lack, as he was determined to rise quickly and learn from those that previously paved the way in the hip-hop scene.
While Bryson's natural knack for singing, rapping, and writing lyrics is what originally prompted him to create videos showcasing his music, he soon discovered that creating hip hop music and being able to share it with others is his passion. The artist initially kept his music to himself, refining his skills and perfecting his lyrics, until he was ready to share his work with his classmates and social media followers.
Social media quickly proved to be Bryson's launching pad to stardom. Within a few short years, Morris became a budding Internet sensation, with a large following of fans discovering his sounds through his different social media channels. In the seventh grade, one of his debut videos reached 28 million views, positioning him to become the next young hip-hop sensation.
Bryson's talent draws fans in, and his contagious energy and shining personality keep them coming back for more music. Bryson believes his energy, passion, and unique sound are the perfect combination to produce something fresh and original. He is currently mixing a variety of new music in the studio for his debut album to inspire his fans and prove that his hard work has been worth it.
"I am currently in the process of creating a masterpiece that fits the criteria of what I feel is a great album with my team," Morris said. "I want my fans to receive amazing vibes. Music is about the love, and what I feel in the studio I hope to project that through my sound, and want my fans to feel it too."
As an up-and-coming musician, Bryson hopes his new website and hip hop online shopping store will help create connections with fans, peers, and other musicians across the country, giving them another outlet to learn about his music and his plans for the future. He plans to continue sharing music and updates with fans through his social media channels, in the hope of delivering good vibes and good music to the millions listening.
For more on Bryson Morris and to check out his latest news, visit http://brysonmorris.com/. To shop the Official Bryson Morris store, visit https://shop.brysonmorris.com/
For press inquiries please contact media relations liaison, Dana Blickensderfer at Info@iBossAdv.com or call 813-775-7107.
About Bryson Morris
Viral sensation, Bryson Morris began his career at an early age. Bryson became a budding Internet sensation, with a large following of fans discovering his sound through several social media platforms. In the 7th grade one of his debut videos reached 28 million views, asserting him as the next young hip-hop sensation! Bryson Morris brings uniqueness to the music industry. Nobody in the market has a sound like Bryson Morris, as he is pioneering a new "off the path" sound that is different from what you hear today! Bryson is currently mixing a variety of new music in the studio to inspire and bring hope to his fans. For more on Bryson Morris and to check out his latest music visit http://brysonmorris.com/
Source: Bryson Morris' Team
Share: