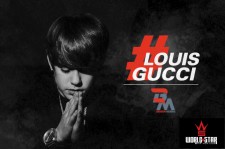 Rapper Bryson Morris now has his hit song #LOUISGUCCI officially featured on WorldStarHipHop, one of the most popular websites for viewing video content.
Atlanta, GA, October 21, 2016 (Newswire.com) - ​WorldStarHipHop rivals YouTube in web traffic, and being featured on the video aggregator is no small accomplishment. #LOUISGUCCI has already been viewed on YouTube over 450,000 times in under a month of its release. The WorldStarHipHop feature is sure to add to the video's exposure and Morris's fan base.
As one may infer from the name itself, WorldStarHipHop commonly features rap and hip-hop music videos rather than music across all genres like YouTube. With over 1.1 million unique visitors each day to worldstarhiphop.com, the website serves as an ideal platform for #LOUISGUCCI; there are a vast number of viewers who are looking for that specific type of content.
Being featured on the site will allow Bryson Morris to have a deeper connection with fans that he acquires from WorldStar; the website's users genuinely appreciate and understand hip-hop as both an art form and a musical genre, and are likely to resonate with Bryson Morris's music.
Bryson Morris has meticulously honed his craft in order to reach this point on his road to success. He has now created enough buzz that Internet personalities are reviewing his music and his attributes as a rapper, and he has received hundreds of submissions by fans for his #LOUISGUCCI Dance Challenge.
To View the #LOUISGUCCI Dance Challenge Click Here: https://youtu.be/m8QnFwR8m1E
Popular YouTuber "LoveLiveServe," who is also known by the name "Rhino," posted a reaction video of himself watching the music video for #LOUISGUCCI. Rhino was pleasantly surprised by the music video's sound and visuals, commenting on their professional quality, while also praising Bryson Morris's lyrical content and delivery. He went on further to say that #LOUISGUCCI is the "new summer anthem." To watch the full review, click here: https://youtu.be/xYydyvflyxQ
Bryson Morris defines himself as a hip-hop artist and frequently voices the love and respect he has for the genre. WorldStarHipHop is a website that caters to artists like Bryson Morris with its strong, tight-knit hip-hop community. Viewers on the site are likely to communicate with each other about content from WorldStar; this usually means word-of-mouth is the primary method that WorldStar visitors use to share content with one another.
Bryson Morris experienced his first taste of fame when he uploaded a video in which he performed a cover of the song "Know Yourself;" it soon went viral and was viewed over 22 million times on various social media websites. Furthermore, the video received a vast amount of praise, which laid the foundation for his fan base.
When he was only 11 years old, Bryson Morris began creating music. He had an inextinguishable passion to break into the hip-hop industry and frequently spent much of his free time researching what other artists had done to attain their success. After he had refined his content, Morris finally decided to share it with his classmates and social media followers; the feedback was overwhelmingly positive, and he used this as motivation to continue his pursuit of becoming a hip-hop musician. #LOUISGUCCI is his first of many official projects.
To View the WorldStarHipHop Video, click here: http://www.worldstarhiphop.com/videos/video.php?v=wshh2r6gJYy6k4C0aV84
For more on Bryson Morris and to check out his latest news, visit https://shop.brysonmorris.com/blogs/news
To shop the Official Bryson Morris store, visit https://shop.brysonmorris.com/
For press inquiries please contact media relations liaison, Dana Blickensderfer at Info@iBossAdv.com or call 813-775-7107.
About Bryson Morris
Viral sensation, Bryson Morris began his career at an early age. Bryson became a budding Internet sensation, with a large following of fans discovering his sound through several social media platforms. In the 7th grade one of his debut videos reached 28 million views, asserting him as the next young hip-hop sensation! Bryson Morris brings uniqueness to the music industry. Nobody in the market has a sound like Bryson Morris, as he is pioneering a new "off the path" sound that is different from what you hear today! Bryson is currently mixing a variety of new music in the studio to inspire and bring hope to his fans. For more on Bryson Morris and to check out his latest music, visit http://brysonmorris.com/
Source: Bryson Morris
Share: