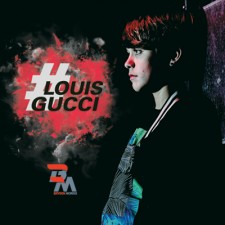 Artist Bryson Morris received featured placement on the largest music promotion tool in the industry, VEVO.
Atlanta, GA, October 20, 2016 (Newswire.com) - ​​​Rising teen hip-hop sensation Bryson Morris now has his hit single #LOUISGUCCI featured on VEVO. With over 450,000 views since the beginning of September 2016, the artist has received placement on the largest music promotion tool in the industry.
VEVO is a video hosting service that aims to increase exposure and awareness of the content that featured artists create. The service has over 51 million unique viewers, which makes it an extremely effective method to help musicians reach a larger number of people.
Partnering with VEVO is not easy; there is a very selective submission and approval process before an artist is able to have their music featured by VEVO. The first step to reaching VEVO's spotlight is to submit press coverage of one's talents and achievements as an artist, which may include music tours, radio play, album sales, etc. At the age of 14, Bryson Morris is statistically one of the youngest artists to be a part of the VEVO network.
Other than his music, Bryson Morris has had other forms of exposure on the Internet; several Internet personalities have reviewed and reacted to #LOUISGUCCI's music video and hundreds of fans have sent in submissions for the artist's #LOUISGUCCI Dance Challenge.
YouTube personality "LoveLiveServe," who is known by his fans as "Rhino," uploaded a video of himself reacting to Bryson Morris's #LOUISGUCCI music video. He was genuinely impressed with the production quality of the video as well as the artist's lyrical content. One of the comments he made during his acclaim was that the song was a "summer anthem." To watch the full review, click here: https://youtu.be/xYydyvflyxQ
Bryson Morris's recent success, which is fueled by #LOUISGUCCI's overwhelmingly positive reception, has allowed him to transition from a musician on YouTube to one who is a part of VEVO, the same network on which artists like Jay-Z and Taylor Swift have their music featured.
Bryson Morris first gained notoriety from his remix of the song "Know Yourself" that went viral and garnered over 22 million views on combined social media platforms. This helped establish his fan base, which has only grown over time.
The artist's new profile on VEVO can be viewed here: http://vevo.ly/VGQHaj
Bryson Morris first delved into creating music while he was only 11 years old. He had an unshakeable determination to succeed as a hip-hop artist and spent much of his own time researching how other artists in the past made their breakthroughs into the industry. As he began to share his content and become more popular, he used the positive feedback he received from his classmates and fans on social media as motivation to further pursue his career.
For more on Bryson Morris and to check out his latest news, visit https://shop.brysonmorris.com/blogs/news
To shop the Official Bryson Morris store, visit https://shop.brysonmorris.com/
For press inquiries please contact media relations liaison, Dana Blickensderfer at Info@iBossAdv.com or call 813-775-7107.
About Bryson Morris
Viral sensation, Bryson Morris began his career at an early age. Bryson became a budding Internet sensation, with a large following of fans discovering his sound through several social media platforms. In the 7th grade, one of his debut videos reached 28 million views, asserting him as the next young hip-hop sensation!
Bryson Morris brings uniqueness to the music industry. Nobody in the market has a sound like Bryson Morris, as he is pioneering a new "off the path" sound that is different from what you hear today! Bryson is currently mixing a variety of new music in the studio to inspire and bring hope to his fans. For more on Bryson Morris and to check out his latest music visit http://brysonmorris.com/
Source: Bryson Morris
Share: