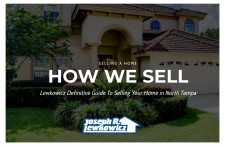 Acclaimed North Tampa realtor, Joseph Lewkowicz, launches new website feature entitled "Sell A Home," exploring his marketing strategies for selling a home.
Tampa, FL, February 26, 2018 (Newswire.com) - ​​​​​Joseph Lewkowicz has been servicing the Tampa Bay area for over 40 years. As a member of Coldwell Banker, one of the largest real estate brokerage companies in the world, Joe belongs to the NRT franchise, which is responsible for over $156 billion in sales the past year. He is ranked in the top ½% of realtors in the country, competing with other agents in cities like Beverly Hills, Manhattan, and Miami Beach. Joe Lewkowicz has successfully sold over 3,000 homes in his career through his personal mantra: "No-one works harder to sell your home!"
With the introduction of his new website feature, "Sell A Home," Joe has made available his personal marketing strategies used to sell a client's home best.
Joe goes into detail in 'A Successful Marketing Plan' on explaining the multiple advertising techniques implemented. The success of Coldwell Banker's brand affords them the ability to spend millions on high-quality marketing, including top-tier placements for listings on Zillow, Trulia, and Realtor.com. They focus on global and local marketing with digital and media advertisements, as well as more local sources like the Tampa Bay Times. Joe himself spends several hundred thousand dollars each year to market properties for potential buyers. By creatively showcasing the neighborhoods to attract buyers, Joe ensures his work is done with high quality and appeal to help sift through the crowd of advertising found on the Internet.
Also on the website, Joe outlines several of his offline marketing strategies in his new feature. For instance, the Lewkowicz Gazette is one of the first of its kind in North Tampa real estate marketing. The edition aims to share information easily for real estate listings and market reporting. Joe also utilizes direct mailers to target specific zip codes in North Tampa to give listed properties the best marketing advantage. Lastly, to showcase the best North Tampa real estate, Joe also incorporates broker notes that offer waterfront lake homes, golf course neighborhoods, equestrian properties, country clubs, and residential listings.
Another feature viewers will see on the website is online marketing. Online marketing is used to its full advantage with Joe Lewkowicz. Joe uses his business and professional social media channels to gain market advantage by appealing to multiple demographics and exposing them to residential listings for his properties. Listing videos are produced to highlight listings in the North Tampa Bay area and to show the unique selling points of each home. Joe continues to stay ahead of the curve with his affiliations for sites like Zillow, Tulia, and Realtor.com. He spends a significant amount on advertising to ensure his listings remain at the top of the search engine searches.
Through his dedication and hard work, Joe has proven himself to be a top contender in the real estate industry. Clients know exactly what they are getting when working with Joe Lewkowicz. His exceptional customer service, attention to detail, and market knowledge makes him an invaluable source to help navigate the North Florida real estate market.
For more information, visit https://josephlewkowicz.com/portfolio/sell-a-home/ or call 813-701-2030 to request a consultation.
For media or press inquiries, please contact media relations liaison Dana Blickensderfer at info@iBossAdv.com
About Joe Lewkowicz
With over 40+ years of experience, Joe has proven himself to be a prominent figure in the Tampa Bay Real Estate market. Selling thousands of homes throughout his career, Joe is known for his exceptional customer service, attention to detail, market-savviness and calculated decisions. Search for North Tampa FL homes for sale on the most up-to-date Real Estate MLS in Mid-Florida at: http://josephlewkowicz.com/
"No-One Works Harder To Sell Your Home!" For more information visit: http://josephlewkowicz.com
Source: Joseph Lewkowicz
Share: