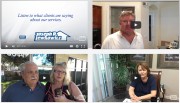 Lewkowicz's clients have undoubtedly praised Joe's skills and excellence in the field of residential real estate. His extraordinary services and keen eye for Tampa's top properties have earned him sterling recognitions in his territory— The Northwest Region of Tampa, FL
Tampa, Florida, January 20, 2016 (Newswire.com) - ​Standing at the pinnacle of real estate excellence, a top producer in the brokerage of the world-renowned
and esteemed firm, Coldwell Banker Residential Real Estate — A firm that includes some of the world's top agents like "The Jills" of Miami Beach and Chris Cortazzo of Malibu, CA, Joe is recognized amongst these behemoths for his stellar performance and impressive volume of sales in the Northwest Tampa Region.
How does one reach that pivotal moment in their career? A rare kind moment that very few people in the real estate industry ever achieve; Perhaps its the years of hard work and knowledge that can only be attained by doing hundreds of transactions — or maybe it's his uncanny ability to speak genuinely and accurately about the local market. Either way, it's made Joe Lewkowicz a very successful man.
"Joe really does work harder than anybody else to sell your home."
As seen in this video, Joe has a knack for satisfying his customers needs and selling homes very quickly — Danny Wilson attest's to the fact that Joe knows how to sell homes quickly and for top-dollar. He put Danny's house on the market on Friday and instantly received an appointment from a potential buyer to see the house on Sunday. The next day, Danny was presented with a full price offer! That's less than 5 days on market!!!
And yet, Joe has never been fully satisfied with the end result. A sensational marketer, Joe strives each year to do better and better than the last. Imagine yourself climbing to the top of Everest only to reach the summit and wonder how to build a jet pack that will take you higher. Essentially, this is the kind of mentality and passion that Joe has when it comes to selling residential real estate.
Another client testimonial shows two very satisfied ladies who sold their house at 16003 Northlake with the expert guidance and marketing services of Joe Lewkowicz. Enthusiastic and thrilled they were able to sell their home very quickly claiming that "Joe really does work harder than anybody else to sell your home".
Video testimonial of 16003 Northlake seen below… Watch Video Here: https://youtu.be/WKCadSScdI4
In 2015 alone, Joe sold over 109 homes ranging from your average single family homes to more luxurious golf-course and lake front estates! In the Northwest region of Tampa, FL Joe has sold twice as many homes as any other agent — concentrating on the zip codes associated with Carrollwood, Lutz, Odessa, Northdale, Lake Magdalene, Citrus Park and Keystone. Many other realtors would be happy if they sold half the volume Joe has sold this year or even a quarter of the volume for that matter. What makes Joe stand out, is that he is Joe Lewkowicz. He does not employ others to do the hard work that is associated with real estate. When you call Joe Lewkowicz to sell your home, Joe Lewkowicz is the one that answers the call! Many other people have organized themselves into teams, chaotically tossing clients back and forth to whomever is available at the moment. Joe, does not make excuses like this and personally oversees each and every transaction on his own. In fact, Joe is selling with the kind of volume that is greater or equal to the top teams in the Tampa area.
As we commence the 2016 calendar year, Joe Lewkowicz is looking forward to pushing the limits of residential sales. He believes this year will be the best one yet. Looking to sell your home and not sure which realtor to use?
Perhaps this testimonial will convince you to use Joe Lewkowicz for your next real estate transaction.
For more information regarding realtor Joe Lewkowicz testimonial videos please contact media relations liaison, Dana Blickensderfer at Info@iBossAdv.com.
About Joe Lewkowicz
With over 35+ years of experience, Joe has proven himself to be a prominent figure in the Tampa Bay Real Estate market. Selling thousands of homes throughout his career, Joe is known for his exceptional customer service, attention to detail, market-savviness and calculated decisions. Search for North Tampa FL homes for sale on the most up-to-date Real Estate MLS in Mid-Florida at: https://josephlewkowicz.com
Share: