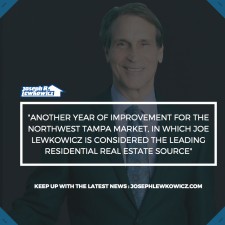 Joe Lewkowicz has released his first informative vlog about the Northwest Tampa real estate market's performance.
TAMPA, FL, February 1, 2017 (Newswire.com) - ​​Real estate can be an intimidating industry for buyers. Signing convoluted documents, managing financing options, and finding the right real estate agent are all obstacles that can be off-putting for those who are looking to purchase a home.
The industry can prove to be daunting for sellers, as well. Preparing the home to be sold, listing the home, and once again finding the right real estate agent can be the root of a great amount of stress, and the challenges sellers face are amplified even more if they are unaware of how they can adapt to them.
On top of all of these other factors, it is vital to understand the market where the home is being sold or purchased. Knowing when and at what price to buy or sell is absolutely critical in order for home purchasers to save money and for home sellers to get their money's worth.
These hurdles that buyers and sellers must overcome are the motivation behind Joe Lewkowicz's informative vlogs. The Northwest Tampa market is an area where Joe holds more than 40 years of experience. Furthermore, he has been ranked as the top agent in Northwest Tampa Bay for the last seven years, making him the perfect guide for buyers and sellers in this location.
Joe Lewkowicz's first vlog features a market report for Northwest Tampa Bay, which includes an analysis of the median price and fluctuation of sales over the past two years. Additionally, the vlog discusses the total volume of homes available for sale and goes into detail about the most active price range in which homes are being bought and sold.
Joe's performance in the market has given him an extensive sales profile that rivals salesmen in Miami, New York, and California, which are markets where top real estate agents flock to. Many real estate agents inflate their sales numbers by listing the total sales of their teams and not just their individual performance. Joe Lewkowicz has independently sold over 3,000 homes during his career, which is more than entire teams sell together.
In the future, the vlogs that Joe Lewkowicz intends to release will go into further detail about the Northwest Tampa Bay market, providing detailed information about locations based on zip code rather than the location as a whole. His videos will also explore changes that are occurring in the market, such as planned construction that will increase the total volume of homes being sold. By breaking the Northwest Tampa market down into segments, Joe provides comprehensive information about the region from a first-person perspective.
Joe Lewkowicz's vlogs offer the unique viewpoint of someone who has a vast amount of expertise in the industry, providing viewers with accessible, valuable insight into real estate in the Northwest Tampa market. Joe's extensive experience as a seasoned real estate agent establishes him as a trusted source of information.
The mantra "no-one works harder to sell your home" is a phrase that Joe lives by; he painstakingly strives to quickly connect buyers and sellers, ensuring that the process goes as smoothly as possible. His clients are always a priority, which is something that he has consistently proven throughout his years as a real estate agent.
Joe's accomplishments as a real estate agent have resulted in him being ranked among the top Coldwell Banker salesmen; an achievement that can only be attained through years of efficient work that produces equally efficient results. His performance as a Coldwell Banker agent earned him an invitation to the exclusive Celebration of Success Event in 2016, to which only the highest performing agents are invited.
Informational vlogs are a new outlet that Joe has chosen to capitalize on in order to educate buyers, sellers, and even other real estate agents about Northwest Tampa market trends, market performance, and what one can expect if they choose to buy or sell in the region.
For more information about Joe Lewkowicz VLOG's and what it has to offer, click here: https://youtu.be/461fCvt9FXk
To learn more about Joe Lewkowicz or utilize his many valuable industry resources, please visit http://josephlewkowicz.com/ today! For more information to get your home evaluation, please contact media relations liaison, Dana Blickensderfer at Info@iBossAdv.com
About Joe Lewkowicz
​With over 40+ years of experience, Joe has proven himself a prominent figure in the Tampa Bay Real Estate market. Selling thousands of homes throughout his career, Joe is known for his exceptional customer service, attention to detail, market-savviness and calculated decisions. Search for North Tampa FL homes for sale on the most up-to-date Real Estate MLS in Mid-Florida at: http://josephlewkowicz.com
"No-One Works Harder To Sell Your Home!" For more information visit: http://josephlewkowicz.com
Source: Joseph Lewkowicz
Share: