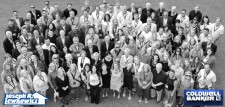 ​Joe Lewkowicz, a premier real estate agent in the North Tampa Bay market, has received an invitation to the esteemed Coldwell Banker Celebration of Success event.
TAMPA, FL, November 16, 2016 (Newswire.com) - ​​The gathering, which is held at the Four Seasons Resort Orlando, is exclusive to the highest performing salesmen in the Coldwell Banker/NRT network, the largest real estate company in the country. Joe Lewkowicz has been ranked as the top salesman in North Tampa Bay for the past seven years, which puts him on par with realtors in much larger markets, such as those in New York, California, and Miami.
Joe Lewkowicz has been in practice for 40 years and is currently ranked in the 0.5% of realtors throughout the nation. To learn more about Joe Lewkowicz and outstanding performance as a real estate agent, visit http://josephlewkowicz.com
Home buying is riddled with dangers to watch out for, one of those being realtors who are out to deceive and mislead their clients. Reliability is the most important factor when looking for a realtor to help you purchase a home. To view testimonials from Joe Lewkowicz's many satisfied clients, visit http://josephlewkowicz.com
The iBoss Advertising team knows that strong partnerships with clients are what will bring both parties success; they work meticulously in order to ensure there is complete satisfaction with their services.
iBoss Advertising congratulates Joe Lewkowicz for his great achievement as one of the selected Coldwell Banker Celebration of Success honorees.
Passionate businesses thrive off working with passionate clients; Joe Lewkowicz and iBoss Advertising are a pair that has no trouble melding together. iBoss strives to provide the best web development, marketing and optimization solutions for those they work with, and is becoming more and more respected within both its community and the digital marketing industry.
About Joe Lewkowicz
​With over 35 years of experience, Joe has proven himself to be a prominent figure in the Tampa Bay Real Estate market. Selling thousands of homes throughout his career, Joe is known for his exceptional customer service, attention to detail, market-savviness and calculated decisions. Search for North Tampa FL homes for sale on the most up-to-date Real Estate MLS in Mid-Florida at: https://josephlewkowicz.com
"No-One Works Harder To Sell Your Home!" For more information visit: http://josephlewkowicz.com
About iBoss Advertising
Founded by entrepreneurs, Hugo D. Aviles and Dana Blickensderfer, iBoss Advertising is a full-service digital marketing agency based in Tampa, FL. Devoted to building branding success, iBoss Advertising's mission is to be the leading source for online branding of strategic solutions – i.b.o.s.s. Its team prides itself on innovation, creation and building visionary genius for its clients ranging worldwide, from London to New York and Latin America. iBoss' passion for business, internet marketing and entrepreneurship is evident in their rigorous work ethic, passion and dedication to its clients and brand.
For more information visit: http://www.ibossadv.com
Source: Joseph Lewkowicz
Share: