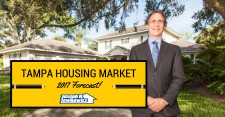 Top Tampa Bay realtor Joe Lewkowicz has developed an in-depth, comprehensive video on the Tampa Bay housing market and its projections for 2017.
TAMPA, FL, March 21, 2017 (Newswire.com) - ​Real estate and the stock market share many similarities; they both are a form of investment, and they both require the analysis of recent trends and performance in order to walk away with the most money possible. Real estate, however, requires more engagement, especially if you choose to hire an agent. Fortunately for many skeptical potential clients, Joe Lewkowicz is one of the most informed agents in the region.
For those in northern Tampa Bay, Joe Lewkowicz offers his extensive insight and perspective on the local housing market, ranging from housing sales performance, to market, and predictions for the upcoming year, allowing potential buyers and sellers to learn all they need to know before they begin pursuing a transaction.
The video, which will be hosted on Joe's media platform that is appropriately named Joe Lewkowicz TV, is just one of many videos that are planned for 2017 that aim to provide viewers with unique information on North Tampa's market.
Joe Lewkowicz has consistently been ranked the top salesman in North Tampa for the past seven years, where he has even outperformed teams of agents in terms of total sales. He is also ranked in the top percentage of Coldwell Banker agents, which earned him an invitation to the prestigious Celebration of Success event that was held in Orlando during September 2016.
The road to these accomplishments was not easy, however; it took Joe Lewkowicz many years to accrue his outstanding 3,000+ individual home sales. His outstanding performance as an agent has established him as a trustworthy, authoritative source in the local market, enabling him to pave the way for those looking to learn more about Tampa real estate.
Joe's market forecast outlines national trends that have been occurring over recent years and elucidates which of those trends the North Tampa housing market exhibits. Those who are seeking to sell their home in the area are able to utilize this information to determine when is the best time to put their house on the market.
Joe Lewkowicz also outlines factors unique to the local market that have influenced attributes such as price, property inventory, and the rate at which that inventory is sold. He aims to educate as many people as possible about the basics of the Tampa real estate market to ensure that they are aware of the ideal moment to buy or sell.
With over 40 years of experience and sales numbers rivaling those in California, New York, and Miami, it would be exceedingly difficult to find another agent as qualified as Joe Lewkowicz to act as one of the leading purveyors of real estate information. In the North Tampa market, Joe Lewkowicz is objectively the greatest source there is, as his numbers and experience tower over all other agents in the area.
Joe's dedication to his clients is realized in the form of his informative video content, further proving true his personal mantra: "no-one works harder to sell your home!" As has been exhibited by Joe's past sales and performance, Joe works tirelessly to ensure each of his clients are left completely satisfied.
In addition to maintaining his stellar performance as an agent, Joe Lewkowicz aims for Joe Lewkowicz TV to be the premier resource for individuals who are looking to learn more about the local market in Tampa Bay, particularly about past performance and future predictions.
Joseph Lewkowicz has consistently proven to be more than a typical real estate agent; he treats his clients the same way he would treat a friend, and strives to make them feel comfortable and at ease while he takes care of the rest. However, Joe's friendly demeanor does nothing to take away from his efficacy as a real estate agent; he still performs just as optimally.
In an industry that is rife with people who intentionally mislead and deceive, Joe Lewkowicz is someone that can be trusted unconditionally.
To visit Tampa's Housing Market Forecast for 2017 visit, https://youtu.be/Ef9LtDiArOE
To learn more about Joe Lewkowicz or utilize his many valuable industry resources, please visit http://josephlewkowicz.com/ today! For media or press inquires, please contact media relations liaison, Dana Blickensderfer at Info@iBossAdv.com
About Joe Lewkowicz
With over 40+ years of experience, Joe has proven himself to be a prominent figure in the Tampa Bay Real Estate market. Selling thousands of homes throughout his career, Joe is known for his exceptional customer service, attention to detail, market-savviness and calculated decisions. Search for North Tampa FL homes for sale on the most up-to-date Real Estate MLS in Mid-Florida at: http://josephlewkowicz.com/
"No-One Works Harder To Sell Your Home!" For more information visit: http://josephlewkowicz.com
Source: Joseph Lewkowicz Marketing Team
Share: