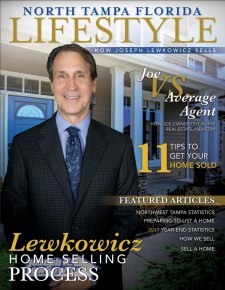 Joseph Lewkowicz has been in the real estate industry for more than 40 years, and not a day goes by he doesn't eat, breathe, and live real estate. With that, Joe launches an inside look at what it takes to be a real estate agent, emphasis on 'real.' Available now, get a free digital or print copy of North Tampa Florida Lifestyle's latest issue, today.
TAMPA, Fla., July 25, 2018 (Newswire.com) - The launch of the North Tampa Florida Lifestyle Magazine will be yet another brilliant idea that heats up the competitive Tampa real estate market. North Tampa, known for its sprawling waterfront properties and bustling suburbs, has been at the forefront of the real estate industry.
But by switching up the focus, from homebuyer to real estate agent, the release of this new issue will focus on a 'Behind the Scenes' look at Joe versus the average agent. Homebuyers, don't know what it takes for an agent to land the perfect deal for them. That is where this issue of the North Florida Lifestyle Magazine comes into play.
Joseph Lewkowicz takes the role of real estate agent very seriously, so much so that he is not afraid of exposing the truth behind the business. Joe understands that being an agent is a full-time job, not a hobby, like new agents coming into the industry make it out to be. This magazine is designed to show readers what he does, compared to the majority of agents, either working full-time or the many that are part-time in this business.
In this issue of North Tampa Florida Lifestyle Magazine, Joseph Lewkowicz makes it known that he is no average agent. In his feature article, "One on One With Joe," he answers the most personal questions, exposing himself and the business by shedding some light on hot topics that homebuyers need to know. He dishes on the market, and even problems within the industry. To read the full article, visit the magazine by using this exclusive link: http://bit.do/NTFL-2
Other key articles in this magazine include, 'How Joseph Lewkowicz Sells,' 'Joe vs. Average Agent,' and even '4 Steps to the Home Selling Process.' All this can be found in the newest edition of North Tampa Florida's Lifestyle Magazine.
Attaining a copy has never been so easy, get a free print or digital copy today, out now.
Find out more on how Joe stands out in the real estate industry by visiting the exclusive Magazine link: http://bit.do/NTFL-2
For media or press inquiries, please contact media relations liaison Dana Blickensderfer at info@iBossAdv.com.
About Joe Lewkowicz
With over 40+ years of experience, Joe has proven himself to be a prominent figure in the Tampa Bay Real Estate market. Selling thousands of homes throughout his career, Joe is known for his exceptional customer service, attention to detail, market-savviness, and calculated decisions. Search for North Tampa FL homes for sale on the most up-to-date Real Estate MLS in Mid-Florida at: http://josephlewkowicz.com/
"No-One Works Harder To Sell Your Home!" For more information visit: http://josephlewkowicz.com
Source: Joseph Lewkowicz
Share: