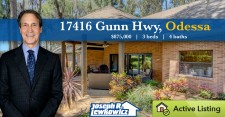 The leading real estate agent in the Greater Tampa Bay area, Joseph Lewkowicz is progressing his strategy and commitment to selling homes with the launching of his new listing campaign: 30 Listings in 30 Days.
TAMPA, Fla., June 11, 2019 (Newswire.com) - ​Joseph Lewkowicz is a Coldwell Banker agent that has been serving North Tampa for 42 years and has made his way to becoming number one among all his competitors in this area. His listings have constantly been off the charts, selling over 20 homes in just five months. Through email marketing, offline marketing, SMS auto messaging and social media, Joe Lewkowicz is always on the move to assist the buyers and sellers of real estate. Now, he's going beyond his capabilities with 30 Listings in 30 Days.
For the next month, Joe Lewkowkicz is going to post a new listing each day. These include active, pending and closed listings, which will be posted and promoted on Facebook and Instagram. 30 Listings in 30 Days is going to reach new audiences and tremendously help ease the house-hunting process for buyers, making it more convenient and efficient.
This listing campaign proves Joe's dedication to serving clients with his respect, hard work and knowledge. No real estate agent in Tampa Bay has the experience or results that Joe Lewkowicz has. Being active and ready to help both online and offline, he is persistently promoting and selling homes and bringing smiles on his customers' faces.
Joe Lewkowicz is a renowned real estate agent in the North Tampa Bay area and has been ranked as a top salesman the past seven years, making him a significant competitor with other large markets in places like New York, California and Miami. He has worked in the Tampa Bay area for approximately 42 years and worked to provide the best service for his customers. His hard-to-forget mantra "No-One Works Harder To Sell Your Home!" has proven to be true throughout his extensive career as a real estate agent.
It is no secret that Joe Lewkowicz is a hard-working man and thinks innovatively. His valiant work ethic makes him stand out to other sellers and brings unprecedented value to the company. To learn more about Joe Lewkowicz or to see his most recent listings, please visit http://josephlewkowicz.com today.
For media or press inquiries, please contact media relations liaison Claudia Tran at claudia@ibossdigital.com.
About Joe Lewkowicz
With 40-plus years of experience, Joe has proven himself to be a prominent figure in the Tampa Bay real estate market. Selling thousands of homes throughout his career, Joe is known for his exceptional customer service, attention to detail, market-savviness and calculated decisions. Search for North Tampa FL homes for sale on the most up-to-date Real Estate MLS in Mid-Florida at http://josephlewkowicz.com.
"No-One Works Harder To Sell Your Home!" For more information, visit http://josephlewkowicz.com.
Source: Joseph Lewkowicz
Share: