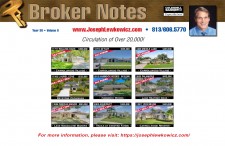 The leading real estate agent of Tampa Bay, Joseph Lewkowicz, is sending out his newsletter, Broker Notes, to homeowners, buyers and sellers throughout the area for the month of June.
TAMPA, Fla., June 27, 2019 (Newswire.com) - There is no doubt that Joseph Lewkowicz is highly acclaimed, trustworthy and committed. As a premier real estate agent serving North Tampa Bay, Joe is always a step ahead of his competitors. He has been assisting numerous clients for over 40 years and is known for being trustworthy and a reliable source in the real estate industry. This month, Joe is providing buyers and sellers alike with useful updates and information in his well-established newsletter, Broker Notes.
Summer is just beginning, and with the hot weather also comes a hot real estate market. With the June Broker Notes, homeowners can stay posted on what's happening in various areas and neighborhoods, which is especially important at this time of the year. Readers can discover the insights of the market, homes that sold, values in their area and more.
Broker Notes circulates to over 20,000 homes in Northwest Tampa and has been mailed out for almost 20 years. It's a timeless practice that always contains rich information. For his clients' convenience, Joseph Lewkowicz offers his newsletter in an online format for free, so it is always available for viewing. To stay on top of what's occurring in the Northwest Tampa area, read the full June Broker notes here https://josephlewkowicz.com/broker-notes-june-2019/.
Joe can also be reached in a multitude of ways, not just through phone or mail. He is active online and also through social media like Facebook, Instagram and Twitter. Contact him for questions about buying, selling or anything else related to real estate.
To get exclusive access to the free digital editions of Joe Lewkowicz's Broker Notes, please visit https://josephlewkowicz.com/portfolio/market-studies/.
For media or press inquiries, please contact media relations liaison Claudia Tran at claudia@ibossdigital.com
About Joe Lewkowicz
With over 40+ years of experience, Joe has proven himself to be a prominent figure in the Tampa Bay Real Estate market. Selling thousands of homes throughout his career, Joe is known for his exceptional customer service, attention to detail, market-savviness, and calculated decisions. Search for North Tampa, Florida homes for sale on the most up-to-date Real Estate MLS in Mid-Florida at http://josephlewkowicz.com.
"No-One Works Harder To Sell Your Home!" For more information visit: http://josephlewkowicz.com.
Source: Joseph Lewkowicz
Share: