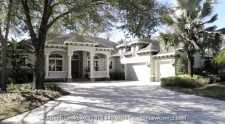 One of the most prized waterfront homes in Odessa, FL went up for sale and was quickly nabbed within 7 days. Listed by Joseph R. Lewkowicz, the stunning Lakefront estate is a dream oasis to behold.
TAMPA, May 9, 2016 (Newswire.com) - ​Whoever said that South Tampa's real estate market moves faster than North Tampa's, probably hasn't seen Joseph Lewkowicz's luxury listing on Lake Maurine. In fact, many didn't see it, because it was gone before you could make an appointment!
"There's a peculiar thing about million dollar listings," Joseph Lewkowicz explains. When people search for a home of this caliber, it needs to be outstanding and unforgettable. It needs to have the right combination of location, upgrades, and decorum that makes people want to pull the trigger. People who are ready to pull the trigger on million dollar properties know what they want and many of them will buy in cash.
This stunning custom-built home situated on Lake Maurine is the perfect combination of location and upgrades. It's the kind that leaves people awe-struck and ready to pull the trigger. This is an easy task when every room has full unobstructed and expansive views of Lake Maurine, a sentiment to how truly spectacular this lot is and how beautifully this home was built. The spacious-screened in Lanai, is one of a kind and befitting of a million dollar property. Large pool, bar with television, and a fire pit create the perfect ambience for entertaining guests. Step out onto the dock with its very own boat ramp and take full potential of ski-sized Lake Maurine. This is the true North Tampa Lifestyle.
If you missed out on the opportunity to see this amazing home, Joseph Lewkowicz commissioned a video tour of the property for clients that might still be interested in putting in a backup offer. See the video here, [Link to video].
Offered at $1,295,000.00, one can only guess what someone must have offered in order to reach an agreeable price with the seller (the purchase price and buyers' names have been kept undisclosed for discretion). The seller is a young entrepreneur who is the CEO of an A/C company that specializes in commercial grocery chains, like Publix. With this expertise, the seller equipped the home with chic, industrial ducts on the second level.
When a house has it all, it's no wonder this one was gone in a flash. The terrific marketing experience and exposure provided by Northwest Tampa's top realtor, Joseph Lewkowicz really spotlighted this diamond of an estate!
No one really does work harder to sell your home! For more information on this million dollar home listing please contact media relations liaison, Dana Blickensderfer at Info@iBossAdv.com.
About Joe Lewkowicz
With over 35+ years of experience, Joe has proven himself to be a prominent figure in the Tampa Bay Real Estate market. Selling thousands of homes throughout his career, Joe is known for his exceptional customer service, attention to detail, market-savviness and calculated decisions. Search for North Tampa FL homes for sale on the most up-to-date Real Estate MLS in Mid-Florida at: https://josephlewkowicz.com.
Source: iBoss Advertising
Share: