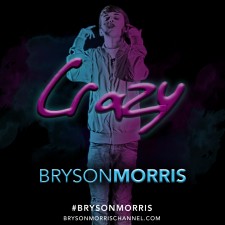 The countdown to the release of Bryson's new single "Crazy" is finally over, Bryson Morris' fans are buzzing about his latest music.
Los Angeles, California, March 27, 2017 (Newswire.com) - ​​​It is not often that people are able to bring their dreams of becoming performers to life. It is even less often that someone as young as 14 years old is able to accomplish this task.
While his peers are taking classes during the day, Bryson is in the studio, churning out lyric after lyric toward his ongoing projects. From recording with his producer Ricky Benz to appearing in high-quality music video productions, Bryson Morris genuinely lives the lifestyle of a modern-day hip-hop artist.
Bryson Morris experienced firsthand the transition from normal 7th grader to an Internet sensation with millions of views. His first taste of success came from his cover of Drake's Know Yourself, which garnered over 20 million views. His exposure subsequently skyrocketed, with his video being reposted many times across multiple YouTube channels.
Renowned YouTube Personality "Rhino," better known by his channel name of LoveLiveServe, posted a review of Bryson Morris's first single, #LOUISGUCCI. Praising the song's production value, lyrical delivery, and overall atmosphere, Rhino had only positive words for the teen's song.
Today, Bryson Morris is an established artist with an entire team behind him. His new song "Crazy," which dropped at midnight on Friday, March 25, came complete with a full music video. His latest track merges Bryson's signature hip-hop style with pop-infused, bouncy synth leads and bright percussion, and the result is a catchy, memorable song that many listeners can relate to.
In a recent music video review -- "They can relate to the song as a byproduct of its lyrical content: heartbreak. Specifically, longing for someone who you believe you cannot have. This type of angst is ubiquitous throughout the lives of children, teenagers, and even adults, which is what makes "Crazy" so accessible to anyone who listens to it."
Set in a colorful arcade, the music video offers a brief look into Bryson Morris' imagination as he fantasizes about a female romantic interest, envisioning a comfortable, carefree life in which they are a mutually affectionate couple. There is plenty of sunshine, laughter, and smiles portrayed as Bryson's lighthearted quips and banter play on, each line a testament to his undying loyalty.
The video concludes with a departure from his love-struck daydream and reverts back to the arcade he was originally present in, leaving him to go on about his day. The combination of the song's thumping beat and clever lyricism, stellar video production, and relevance to such a broad audience make it a unique song that anyone will be able to enjoy.
To hear for yourself what all the hype is about, visit http://brysonmorrischannel.com to watch the music video to "Crazy!"
Bryson Morris has big plans for 2017; so big, in fact, that he can't quite yet talk about them. However, they are sure to include much more musical content for his fans to enjoy.
According to Bryson, as long as his fans are happy, he feels successful. For the Bryson Morris Crazy Music Video, Click Here: https://youtu.be/CPijmGOjftQ
For more on Bryson Morris and to check out his latest news, visit https://shop.brysonmorris.com/blogs/news
To shop the Official Bryson Morris store, visit https://shop.brysonmorris.com/
For press inquiries please contact media relations liaison, Dana Blickensderfer at Info@iBossAdv.com or call 813-775-7107.
About Bryson Morris:
Viral sensation Bryson Morris began his career at an early age when he became a budding Internet sensation, with a large following of fans discovering his sound through several social media platforms. In the 7th grade, one of his debut videos reached 28 million views, establishing him as a rising star in the hip-hop community! Bryson Morris brings uniqueness to the music industry, and nobody in the market has a sound like Bryson Morris. He is pioneering a new, "off the path" style that is different from much of what is heard today! Bryson is currently working on a variety of new music in the studio to inspire and bring hope to his fans. For more on Bryson Morris, and to check out his latest music, visit http://brysonmorris.com/
Source: Bryson Morris' Team
Share: