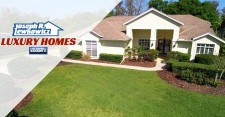 Joe Lewkowicz has released a promotional video of a lavish home in Lake Fuller Estates, a secluded neighborhood that is one of North Tampa's most beautiful hidden gems.
Tampa, FL, April 29, 2017 (Newswire.com) - ​When selling one's home, it can be exceedingly to handle the transaction process down to its finest details; staging, listing, and promoting a home is a full-time job in itself, and one that many simply do not have the space in their schedule for. That is, after all, why people hire real estate agents in the first place.
Many agents, however, simply do not take the extra step in order to sell the homes of their clients. In many cases, simply listing a home and minor promotional efforts is not enough to sell the home as quickly as possible; more work is required to move things along. There is a small percentage of houses that sell themselves, but most of them do not.
Joe Lewkowicz is a seasoned North Tampa realtor who goes above and beyond taking the extra step for his clients. With over 40 years of experience, Joe understands exactly how to showcase a house, make it known to potential buyers in the surrounding market, and capitalize on a home's selling points in order to have the keys to the front door leave the seller's hand as soon as they can.
For this particular home in Lake Fuller Estates, Joe Lewkowicz has not simply listed the home and its amenities – he has developed an in-depth video that conveys all of the house's unique features, including footage of the home's interior. While this promotional material may not exactly be what is considered a video tour, it is something better. Video tours of homes often include only the interior and yards of the property, while Joe Lewkowicz's video on Lake Fuller Estates includes breathtaking aerial shots of the entire neighborhood, beautifully illustrating the main features of the surrounding area, such as its tucked away location, and pristine lake that is perfect for a weekend afternoon of watersports.
To learn more about the informative and insightful videos that Joe offers, click here
Joe Lewkowicz is a phenomenal agent for reliability, expertise, and the amount of care and effort he puts into each of his clients' real estate transactions. Joe is so proficient, in fact, that his personal sales numbers have exceeded over 3,000 homes. All of these properties were sold by him independently, and there are entire sales teams that cannot match that amount.
Given Lake Fuller Estates' private location, it would not be unheard of for buyers to forego homes in this area simply because they are not aware that they exist. With Joe Lewkowicz's high quality video production and clever inclusion of content that buyers are seeking in a prospective home, Joe does not only inform buyers about the neighborhood, but also entices them to see for themselves exactly what it has to offer.
There are very few real estate agents that compare to Joe's drive for customer satisfaction. He understands that reputation is more important than any individual sale, and works meticulously to ensure that he proves himself to his clients. Each year, Joe invests thousands of his own dollars into marketing his clients' homes — something many other agents simply cannot compete with.
Statistically, Joe's performance is on par with agents who work in areas such as Miami, California, and New York, which are all bustling real estate markets, making it no surprise that he has been rated as the top salesman in the North Tampa Bay Area for the past seven years consecutively. With an unwavering devotion to his clients' ambitions, and the knowledge and expertise to make it happen, Joe has consistently proven that his personal saying rings true: no-one works harder to sell your home.
To learn more about Joe Lewkowicz or utilize his many valuable industry resources, please visit http://josephlewkowicz.com/ today! For media or press inquires, please contact media relations liaison, Dana Blickensderfer at Info@iBossAdv.com
About Joe Lewkowicz
With over 40+ years of experience, Joe has proven himself to be a prominent figure in the Tampa Bay Real Estate market. Selling thousands of homes throughout his career, Joe is known for his exceptional customer service, attention to detail, market-savviness and calculated decisions. Search for North Tampa FL homes for sale on the most up-to-date Real Estate MLS in Mid-Florida at: http://josephlewkowicz.com/
"No-One Works Harder To Sell Your Home!" For more information, visit: http://josephlewkowicz.com
Source: Joseph Lewkowicz Marketing Team
Share: