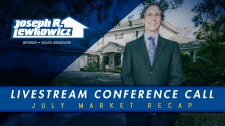 Joseph Lewkowicz held another conference call on July 13, where he spoke about key information regarding the Tampa Bay housing market.
TAMPA, Fla., August 2, 2017 (Newswire.com) - ​Now more than ever over the past decade, real estate is becoming a viable option for professionals to make a significant, consistent income from selling a home. Nearly a decade has passed since the housing market crash of 2008 and the market is finally en route to the stability it once possessed in the years before.
This is good news not only for salesmen but also for regular buyers and sellers as well. Those who are looking to purchase a home in North Tampa, or even sell their current home to a new buyer in the area, will find that there is plenty of opportunity to find a deal far greater than what could have been encountered just a few years ago.
Joseph Lewkowicz has been keeping up with his recent trend of offering livestream conference calls to viewers who are interested in learning more about the Tampa market. Those who tune into these sessions are able to interact with Joe himself, as he answers any relevant question that viewers submit.
Joseph Lewkowicz's career in real estate has spanned over 40 years, giving him plenty of time to build his outstandingly impressive portfolio. Joe sells so efficiently that he statistically competes with other agents in areas such as California, New York, and Miami.
His personal mantra, "No one works harder to sell your home," is one that he certainly lives up to; over the course of his career, Joe has non-team personal sales of over 3,000 homes – a remarkable number no matter how long an agent has been working in real estate.
The livestream for the first half of July covered somewhat unconventional topics, such as property liquidation and how criminal investigation affects the value of a home. Given that Joe's expertise spans nearly four decades, he is able to provide insight into virtually any topic about the North Tampa housing market.
Joe has been voted as the top salesman in North Tampa for the last seven years as a result of his thorough knowledge of northern Tampa's market trends, properties, and hidden gems that many other agents are not as well-versed in. Joe Lewkowicz is one of the greatest primary sources for information about buying and selling homes in North Tampa, and his conference calls should be taken advantage of by anyone who is serious about becoming involved in the North Tampa real estate market.
The early July livestream states that law enforcement investigations could indeed have an adverse effect on the value of a home, but this is entirely dependent on the location, the nature of the crime, how much media coverage the crime received and how the surrounding neighborhood itself views the crime.
While there are plenty of real estate agents who are accomplished in their particular regions, Joseph Lewkowicz's personal sales have earned him a top 1 percent ranking among Coldwell Banker agents, putting him in company with the most elite real estate agents in the country.
To learn more about Joe Lewkowicz or utilize his many valuable industry resources, please visit http://josephlewkowicz.com today.
For media or press inquiries, please contact media relations liaison Dana Blickensderfer at Info@iBossAdv.com.
About Joe Lewkowicz
With over 40+ years of experience, Joe has proven himself to be a prominent figure in the Tampa Bay Real Estate market. Selling thousands of homes throughout his career, Joe is known for his exceptional customer service, attention to detail, market-savviness and calculated decisions. Search for North Tampa Florida homes for sale on the most up-to-date Real Estate MLS in Mid-Florida at http://josephlewkowicz.com.
"No-One Works Harder to Sell Your Home!" For more information, visit http://josephlewkowicz.com.
Source: Joseph Lewkowicz
Share: