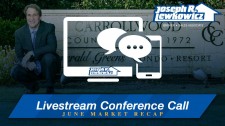 Joseph Lewkowicz is now providing livestream conference calls where he can interact with members of the Tampa community and provide them with insight into the Tampa housing market.
TAMPA, FL, June 30, 2017 (Newswire.com) - ​The real estate industry is one that many people are reluctant to venture into; horror stories of people losing money on a home, and the residual effects of the housing market crash have deterred many people from not only investing in property, but even buying a new home to live in with their families.
Fortunately, the housing market has made a significant recovery, and people are opening their wallets back up when it comes to home buying. However, the inherent uncertainty of overinvesting in real estate remains, and people have many questions to go along with it.
Joseph Lewkowicz is a veteran real estate agent who has over 40 years of experience in the Tampa market. Throughout his time as an agent, however, he has consistently proven to be fast, efficient, and professional when selling homes. To put this into perspective, Joe has had over 3000 individual sales, which is a number entire sales teams have difficulty competing with.
He has also been ranked as the top agent in Northwest Tampa for the last 7 years consecutively, making him a powerful authority in the Tampa real estate space.
The livestream conference calls that Joseph Lewkowicz provides to members of the Tampa community allow them to ask the realtor questions in a live chatroom. During the livestream, Joe answers the questions out loud, creating an experience that is very similar to an online lecture in a course on real estate.
Joe Lewkowicz performs so outstandingly, that his personal sales rival those of agents in Miami, New York, and California, which are all hotspot locations where real estate is consistently sold for exorbitant prices. He is also one of the top-ranked Coldwell Banker agents in the entire country, which earned him a much-deserved invitation to the exclusive Coldwell Banker Celebration of Success event in September of 2016. Only the top 1% of Coldwell Banker salesmen are permitted to attend this function.
The main demographic that is unsure about the real estate market in Tampa is that of the younger generation, especially couples who are looking to purchase their first home together. These individuals often have zero experience in real estate and have often not even fully researched the market for themselves.
However, Joseph Lewkowicz's expertise will benefit even those who have been working in the industry for years. Topics such as whether or not the Tampa market is showing signs of a recession, the best time of the year and month to purchase a home, and even detailed information about specific properties and districts are extensively covered during Joe's livestreams.
Joseph Lewkowicz is one of the best primary sources for those who are looking to sell a home, purchase a home, or invest in the real estate industry. He is pioneering a way for real estate agents to not only better connect with potential clients, but to inform the community about the local market.
Being informed is the best way to equip oneself to delve into real estate, and Joe's expert content is something that should not be overlooked.
To learn more about Joe Lewkowicz or utilize his many valuable industry resources, please visit http://josephlewkowicz.com/ today.
To gain access to the next livestream conference call, please visit http://josephlewkowicz.com/livestream
For media or press inquires, please contact media relations liaison Dana Blickensderfer at Info@iBossAdv.com
About Joe Lewkowicz
With over 40 years of experience, Joe has proven himself to be a prominent figure in the Tampa Bay Real Estate market. Selling thousands of homes throughout his career, Joe is known for his exceptional customer service, attention to detail, market-savviness and calculated decisions. Search for North Tampa, FL homes for sale on the most up-to-date Real Estate MLS in Mid-Florida at: http://josephlewkowicz.com/
"No-One Works Harder To Sell Your Home!" For more information visit: http://josephlewkowicz.com
Source: Joseph Lewkowicz Marketing Team
Share: