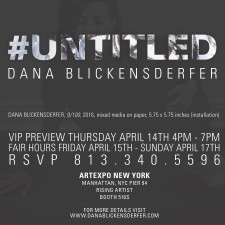 Blickensderfer's recent exhibition, #Untitled, reflects on modern social interaction through black and white drawings.
NEW YORK CITY, April 13, 2016 (Newswire.com) - ​Dana's exhibition, #Untitled, features her recent drawings on paper. Using stream of consciousness technique Blickensderfer creates a series of works on paper questioning notions of representation. Giving the viewer an opportunity to engage with her work in a non-imposing way, Blickensderfer offers playful visuals. #Untitled pulls away from past historical reflections of communication and invites the viewer to reflect on present day social interaction.
The drawings provocatively examine her personal and unique way of translating what society refers to as "snapchatting" or "selfies." The interim state of the artist reveals itself in these bold, daring, and whimsical square drawings, creating an almost still-like timeline of her. The representation of the work may be expressed rather quickly, or may have evolved over the course of a period of time. Such involvement in the process to create these works on paper subconsciously revealed a conversation between her and current cultural norms. Not to be subjected to self-indulgence and current social pressures, Blickensderfer satirically identifies herself in the limited frame of a small square drawing much like a representational image seen online.
This exhibition allows her transition of the self, an exploration not to be stunted by society, but rather to probe a conversation and provoke a deeper understanding of oneself beyond the surface. Most noted for working with color as a means to create her abstract work, Blickensderfer's use of restraining her palette to black and white in her exhibition admits herself to a new freedom and shift from communicating her path to self-exploration through other forms.
Blickensderfer will showcase her innovative exhibition, #Untitled at the four-day ArtExpo New York, the world's largest fine art show. This year's ArtExpo will take place from Thursday, April 14 to Sunday, April 17 at Pier 94 in New York City. Blickensderfer will be joined by more than 400 independent artists from around the globe, displaying their work in various forms, ranging from paintings to glass works and more!
ArtExpo will host tens of thousands of art enthusiasts, gallery owners and managers, art dealers and buyers, and designers. In addition to the fine art displays, attendees will enjoy educational seminars cocktail parties, live entertainment, and other special events.
Over the past several decades, ArtExpo has established itself as the premier venue for established and emergent independent artists, like Dana Blickensderfer of Provoke Art, to showcase their work. For more information on ArtExpo New York and ticketing, visit artexponewyork.com.
About Dana Blickensderfer
An artist mainly working in painting and drawing, Dana Blickensderfer is also the founder of Provoke Art and the co-founder of iBoss Advertising. Based between New York and Tampa (Florida), Blickensderfer draws her inspiration from her personal biography relating to her family legacy: The Blickensderfers. Her most recent series of oil paintings are constructed images portraying the actual typewriter the Blickensderfer from the 1900s. She intertwines images from the actual object, the original advertising and posters of the era creating a kaleidoscope of colors; shifting between figuration and gestural abstraction. Blickensderfer becomes the bridge between the past and the present, the private and the public, the personal and the universal.
In 2014, Blickensderfer was the recipient of the Milton and Sally Avery Scholarship Award to study at the New York Studio School. In 2013, she was a finalist of the Olympics Art Competition in Orlando (Florida) and part of the Celebration of the Arts Exhibition curated by the Bay Area Museums directors in Tampa. Most recently, Blickensderfer was selected as the featured artist in the Panache Vue Magazine, February Edition.
About Provoke Art
In 2010, provoke art was founded and developed in hopes to make meaningful contributions to the art world, integrating artists' inspirations of the past and present combined with contemporary artistic genius.
The provoke art video projects developed with film directors birthed performance art for Dana and other artists' collaborations. Blickensderfer is placed painting a live exhibit in select New York City locations. She plans to produce many of these projects in the coming year with provoke art affiliates. This is the epitome of the provoke art movement – to create works that stimulate thought and emotion; provoke connection and interaction with the common denominator being art.
Source: iBoss Advertising
Share: