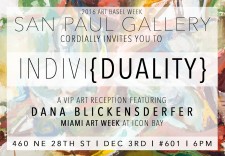 South Beach, Miami will see Dana Blickensderfer's artwork on display for 2016's Miami Art Week during Art Basel.
MIAMI, FL, November 28, 2016 (Newswire.com) - ​Miami is renowned for being a city that is constantly brimming with life and energy; much like New York, the city truly never sleeps. With so much to experience, it is no surprise that people travel from all over the world to visit its beaches, restaurants, and countless other attractions.
One of the most unique and rewarding events that take place in the city is Miami Art Week during Art Basel; it serves as a hub for some of the contemporary art scene's most talented artists, both internationally and within the United States.
A major highlight of Miami Art Week is Art Basel, an exhibition that features modern and contemporary artwork. To stand out in Miami, especially during Miami Art Week, is a challenge in itself. However, many artists and enthusiasts attend the event just to see what Art Basel has to offer.
With such an esteemed reputation to maintain, Art Basel only allows gifted, cultivated artists to have their work featured in the show. Dana Blickensderfer has been selected to have her visual art on display at ICON BAY with San Paul Gallery during the showcase.
San Paul Gallery proudly invites you to two of its most anticipated 2016 MIAMI ART WEEK exhibitions: please join us at THE MIAMI ART RIVER FAIR (Dec 1 - 4), and at THE ICON BAY ART RECEPTION, INDIVI[DUALITY] (Dec 1-4, Reception held on Dec 3), as San Paul Gallery features a diverse collection of Paintings, Drawings, Time-Based Art, and Installations by internationally praised artists Cranio, Carlos Alves, Jonatas Chimen, Dana Blickensderfer, and many others.
The Art selection will include Street, Minimalism, Realism, and Abstract Expressionism, and will be specially curated by Mario Daniel Alvarado and Briana Lutzi. Each of the shows will focus on granting the viewer a true BASEL experience, replete with opportunities for interaction with the artists and their process of creation.
Dana Blickensderfer began her artistic career while working and living in New York City. She is also the founder of Provoke Art and the co-founder of IBoss Advertising. She has lived and worked in New York City and Florida. Most recently, she opened the base of her artistic studio in St Petersburg (FL), where she continues to develop and create new paintings and drawings.
Each canvas combines aspects of drawing, painting, collage and printmaking, all integrated. The large scaled canvases illustrate Blickensderfer's ongoing interest in painting and mark-making while extending her personal lexicon to a wide range of references, including Egyptian art, Arabic symbolism and European modernist painting.
Blickensderfer becomes the bridge between the past and the present, the private and the public, the personal and the universal. Earlier this year, her solo exhibition, held at ArtExpo New York, presented a distinctive series of 100 drawings questioning notions of identity and representation.
In 2013, Blickensderfer was the recipient of the Milton and Sally Avery Scholarship Award to study at the New York Studio School. A finalist of the Olympics Art Competition in Orlando (Florida) and part of the Celebration of the Arts Exhibition curated by the Bay Area Museums directors in Tampa. Most recently, Blickensderfer was selected as the featured artists in the Panach Vue Magazine for February Edition.
Miami Art Week is one of the greatest opportunities to experience timeless artwork that cannot be found anywhere else.
For more information regarding the artist or to RSVP contact info@weprovokeart.com or visit http://danablickensderfer.com/
About Dana Blickensderfer
In addition to being proficient in drawing and painting, Dana Blickensderfer is also the co-founder of iBoss Advertising. Based in both New York and Tampa, Florida, much of Dana's inspiration for her work comes from her family ancestry. She has a recent series of oil paintings that portray the iconic Blickensderfer typewriter, which was invented in the late 1800's. She weaves images of the actual typewriter and the original advertisements for the product together to create an amalgamation of images and color from different eras that link to each other. The end result is an air of nostalgia blanketed in a fresh, innovative atmosphere.
In 2014, Dana Blickensderfer received the Milton and Sally Avery Scholarship, which resulted in her studying at the New York Studio School. In 2013, Blickensderfer was a finalist in the Olympic Arts Competition that took place in Orlando, Florida. That same year, she took part in the Celebration of Arts Exhibition in Tampa, which was curated by the directors of Bay Area Museums. Most recently, Dana Blickensderfer was chosen to be the featured artist of the February edition of Panache Vue Magazine. For more information visit, http://danablickensderfer.com/
About Provoke Art
In 2010, provoke art was founded and developed in hopes to make meaningful contributions to the art world, integrating artists' inspirations of the past and present.
Alongside studio work, Blickensderfer collaborated with New York based artist and filmmaker John Fuentes. It is through this collaboration that she developed her voice in video art and performance art. It is through the process of painting and performance that the artist is able to sublimate the everyday challenges combining complex colors and compositions with intimate sensation such as hope, love and passion, provoking art. For more about the art movement visit, http://provokeartchannel.com/
Source: Provoke Art
Share: