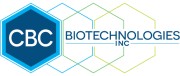 CBC Biotechnologies, Inc., launches project to expand and scale production capabilities of cannabinoids to enhance research abilities through biosynthesis solutions.
Tampa, Florida, October 26, 2015 (Newswire.com) - CBC Biotechnologies, Inc., a Tampa based bio-pharmaceutical company, announced today that it has entered into a contract with one of the preeminent, global pharmaceutical Contract Research Organizations (CRO) to commercially scale CBC's patent pending biosynthesis of cannabinoids. 
The project, with an expected duration no more than nine months, will develop the know-how to increase the production of cannabinoid compounds using yeast to yield greater than 1 kg per batch. This technology will enable commercial scale biosynthesis of bio identical cannabinoids, a process that has never been accomplished previously.
"Our technology represents a breakthrough in the creation and delivery of cannabinoid based medicines," said Jeffrey M. Korentur, president and CEO of CBC Biotechnologies, Inc.
"We have demonstrated the ability to produce a variety of bio identical cannabinoids in our research facilities.  We're excited to see the results of this scalability project, since we believe it will confirm our expectations."
There are two current methods of cannabinoid production: chemical synthesis, and perhaps more well known, extraction from marijuana or hemp.
Cannabinoids produced by chemical synthesis are expensive, have known side effect issues, and are often not identical to those compounds created organically. Plant extracted cannabinoids are subject to a variety of potential complications such as pesticide and herbicide inclusion, susceptibility to crop variations, mutations, and disease, and non-standardized filtration of organic and non-organic matter. Biosynthesis eliminates all of the detrimental effects of both chemical synthesis and crop- expressed cannabinoid extractions.
"We are excited to bring to market all of the advantages of natural, bio identical cannabinoids, while eliminating all of the potential contaminants," said Christopher Brink, a member of CBC's board of directors.  
"Our process produces pharmaceutically pure cannabinoids in less than two days, and for less than half the cost of any current production method. This technology will produce pure cannabinoids without ever growing a crop, eliminating any potential for crop diversion and black market activity."
The scalability project will allow for the production of both the neutral and acidic forms of: Tetrahydrocannabinol (THC and THCA), Cannabidiol (CBD and CBDA), and Cannabichromene (CBC and CBCA). Research is currently underway to expand production capabilities into other cannabinoid compounds (e.g., Cannabinol, Cannabigerol, etc.).
Mr. Korentur continued, "Our intent is to produce as many cannabinoids as possible, especially those expressed in very low quantities by the plant, so researchers can discover the full range of healing power that this class of medicines may provide. They can finally have the purity, quality, quantity, and diversity of compounds to conduct proper studies."
For more information regarding this scalability project visit http://cbcbiotech.com/ or contact media relations liaison, Dana Blickensderfer at Info@iBossAdv.com. For more information on CBC Biotechnologies, Inc. contact 1-813-775-7107.
About CBC Biotechnologies, Inc.
CBC Biotechnologies, Inc. manufactures and licenses technology to make cost effective, pharmaceutically pure cannabinoids as an industrial solutions provider in support of medical research, and product development and implementation. For more information, please visit http://cbcbiotech.com/